Looking for a dynamic, innovative and professional school to work for? Come to P.A.R.K. School of English!
Qualified English and Czech teachers

P.A.R.K School of English was founded in 1992, became a member of the Association of certified Language Schools in the Czech Republic and hosts the annual P.A.R.K. International Conference. We specialise in teaching English and provide excellent support and professional development for new and experienced teachers alike.
Candidates need to meet the following criteria before being invited to interview:

Be an EU citizen or have legal rights to work in CR
Possess a recognised TEFL or teaching qualification
University degree preferable
Have experience with reputable school/s & good references

Passed a recent TEFL course with good references from teacher trainer
Have a success-oriented approach to teaching and professional development
Can adhere to administrative/organisational issues around teaching

If you're interested in further information please send CV and cover letter/email to:

Brno: Ralph Davies, Director of Studies, ralph@skolapark.cz
Other locations: Mgr. Roman Kožnar, Managing Director, roman@skolapark.cz
In P.A.R.K. we also offer:

For Teachers

Quality professional support, training and resources
A friendly, multinational team
Excellent clients
Nice premises
Competitive salary dependent on qualifications and experience
Czech for Foreigners
Proficiency for Czech teachers
High level of support for new teachers
Fun social life!

For Students

Small groups
Native & Czech experienced,qualified and dedicated teachers
General English
Business English
Exam courses
In-house
In-company
Young Learners
Fun social life!
School Cafe
Success!
At the end of a demanding CELTA course we had a short session on how to go about getting a job generally and more specifically where to look for work in Brno. From a list of schools (where PARK came highly recommended) I decided to apply to PARK. I couldn't have asked for a better place.
---
Hannah Griffiths: Teacher at P.A.R.K. Brno 2009 - 2011

I worked for PARK for 5 years, both in Prague and Brno, and I can honestly say that it is one of the most relaxed and supportive working environments I have encountered in my lengthy teaching career. There is a friendly atmosphere in the teachers' room and students seem to sense the camaraderie and are also cheerful and welcoming.
---
Steve Humphrey P.A.R.K. Praha, Brno 2003-2008

I did my CELTA in November 2007. I decided that this was a good move for me as I'd been living in Brighton for a few years (I won't say how many, as it makes me feel old!) I felt it was time for a new challenge and a CELTA seemed like the perfect solution. It would give me the opportunity to teach and travel. I'd always had this in the back of my mind ever since I taught in Zimbabwe. I absolutely loved it and found it an immensely rewarding experience. So I set my sights on CELTA. I took the course and after many hours of blood, sweat and not being able to eat anything but the simplest of sandwiches (initial teaching nerves, oh how fondly I remember that knot in my stomach!) I passed and picked up my knapsack and headed for a year of PARK life in glorious Praha…
---
Jo: British teacher 2007–2013

I did my teacher training in Barcelona, way back in 2003. Previous to this, I had a background in mainly bar work and working with teenagers with learning disabilities and some work in youth clubs. Let's not forget my years playing in a semi-professional Ska band in Norfolk, England. They're still going strong without me, good for them! I've also done a bit of travelling and it was on my travels that I kept hearing about the 'tefl' thing.
Before coming to Prague, I hadn't used my training much. I taught in a summer school in Thailand and also in the UK last summer. My last main job was actually a manager of an Irish pub in Christchurch, New Zealand! However, last year I finally decided to take the plunge into a year-long contract and was accepted as a PARKer.
---
Nic: British teacher 2007–2008

I taught at P.A.R.K. School in Prague for 3 years and it was a thoroughly wonderful experience. I had worked for other language schools before coming to P.A.R.K., so I know what the impersonal environment of a corporate language school can be like, and P.A.R.K. is the complete opposite. The staff works hard and succeeds at creating a family atmosphere where you are more than just another teacher; rather you are an important part of the team.
Because of the school's unique ambiance, the students also feel like they are part of the family and so the classes are warm and open, with a tangible feeling of friendliness in the air. The small class sizes allow students to easily get to know each other and so soon after the semester begins a sense of camaraderie is developed that grows along with their knowledge of English, as they discover what kind of school P.A.R.K. is and then they too join the family.
---
Matt: American teacher 2004–2007

My time at PARK can´t easily be summed up. It was an amazing time in my life. I think it is the atmosphere at PARK that makes it special. A sense of community has been created within this small school in Roztyly. When walking through the halls and up the steps. Fun, talented and truly caring teachers conduct classes and a muted laughter can usually be heard through the classroom walls. As a teacher, you will receive the attention you need from the professional and experienced staff. As a student, you will above all have fun. The teachers here will motivate you to succeed in your language learning.
---
Linda: American/Swedish teacher 2005–2006

Máte zájem? Kontaktujte naše oddělení firemních a individuálních zákazníků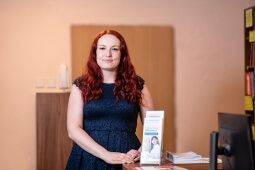 Učit vás budou

rodilí mluvčí a prvotřídní čeští lektoři
---